Business and organisation
Interogo Holding group is a foundation-owned international investment business with its parent company in Switzerland. Our purpose is to support our owner, Interogo Foundation, to safeguard the IKEA Concept, which is anchored the IKEA vision: To create a better everyday life for the many people.
We believe that long-term sustainable competitiveness can only be achieved when businesses create value both for their owners and for other stakeholders, including co-workers, society and the environment.
Read about our investment approach
Interogo Holding's business model is decentralised with each business area having a far-reaching responsibility for its own operations.
How we are organised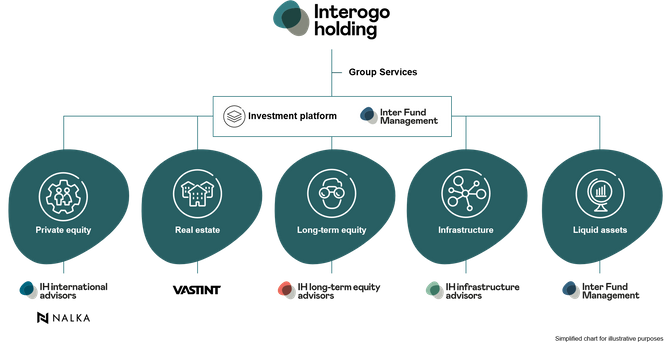 Our investment strategies include private and long-term equities, real estate, infrastructure and liquid assets.
Interogo Holding's operational structure is built around Inter Fund Management* ("IFM") as investment platform, an Alternative Investment Fund Manager, authorized and regulated by the Commission de Surveillance du Secteur Financier ('CSSF').
In this structure, the investment advisory teams, IH International Advisors, IH Long-Term Equity Advisors and IH Infrastructure Advisors operate as advisors to IFM, performing deal origination, investment due diligence, investment recommendations and investment monitoring. The liquid asset strategy is managed by a dedicated team within IFM.
Nalka Invest and Vastint manage their investments and assets directly and are not integrated in the investment platform.
Interogo Holding AG is also a co-shareholder, contributing capital and loan, in Inter IKEA Holding B.V. Our non-voting-shares gives the right to potential dividends. Interogo Foundation is the controlling shareholder in Inter IKEA Holding B.V.
In addition, Interogo Holding group provides treasury services, including lending and borrowing, for its own subsidiaries and the Inter IKEA Group. These activities are carried out through Interogo Holding AG (Switzerland). Various group services are also carried out through Inter Holding Services SA (Belgium).
Ownership structure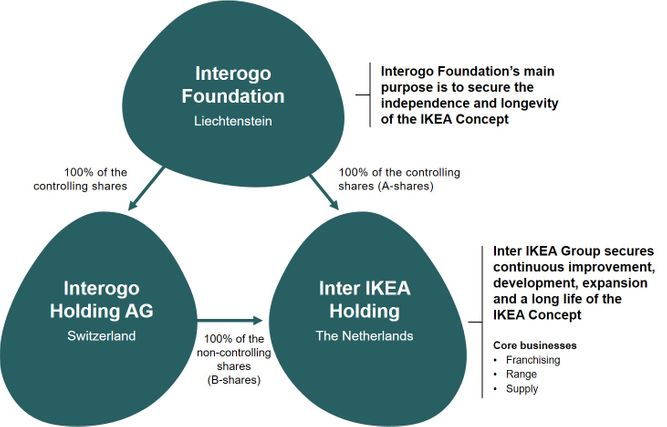 Our entrepreneurial heritage calls on us to never stand still, dare to be different and be open for new ideas.